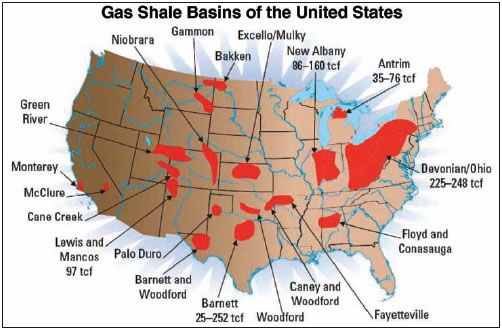 (Geo)graphic provided by the Google Machine.
Never let it be said that I don't admit when I am wrong.  Just over a year ago, I posted a glowing recommendation for a book (which had been showcased by the Aspen Strategy Group (which I generally hold in high regard)) that touted the virtues of natural gas as "the gas bridge" to a renewable energy future.  The enormous volumes of deep natural gas that the book, The Great Energy Transition, described seemed like such a clean burning alternative to oil and gasoline (particularly after my trips to New Delhi where Compressed Natural Gas – CNG – was clearly creating a better, cleaner Delhi).  But nowhere in that book did the author, Robert A. Hefner, III, discuss the Fraking Process.
No, this is not something from my wife's favorite TV show, Battlestar Galactica.  It is the "fracturing" process that Halliburton got exempted from the Clean Water Act, Clean Air Act, and many other laws and regulations in order to crack the underground geology where epic amounts of natural gas resides.  It is this fracturing that is required to free the gas.  As it turns out, the extremely toxic chemicals used in this Fraking process, and the natural gas itself is contaminating the ground water in 34 states.  And, by contaminating, I mean, for instance, people's drinking water can be LIT ON FIRE!!!
I had no idea, until I watched the documentary GasLand on HBO.  Yes, Dick Cheney is complicit.  But, he is just a sideshow.  Watch this documentary and you will abandon the natural gas bridge to a brighter future.  This is just another case of a rosy picture being sold of an energy source, without a net assessment of the total lifecycle environmental impact.
Can anyone tell me why the mainstream media is completely incapable of discovering things like this?  Did it really have to be left to some guy living in Pennsylvania with his CamCorder?
I now feel bad for my children, and somewhat helpless to fix this.  As I live here in Washington, I observe the complete and utter silence, even with Democrats controlling both chambers of Legislative Branch, and the White House.
I think I will have another glass of wine.