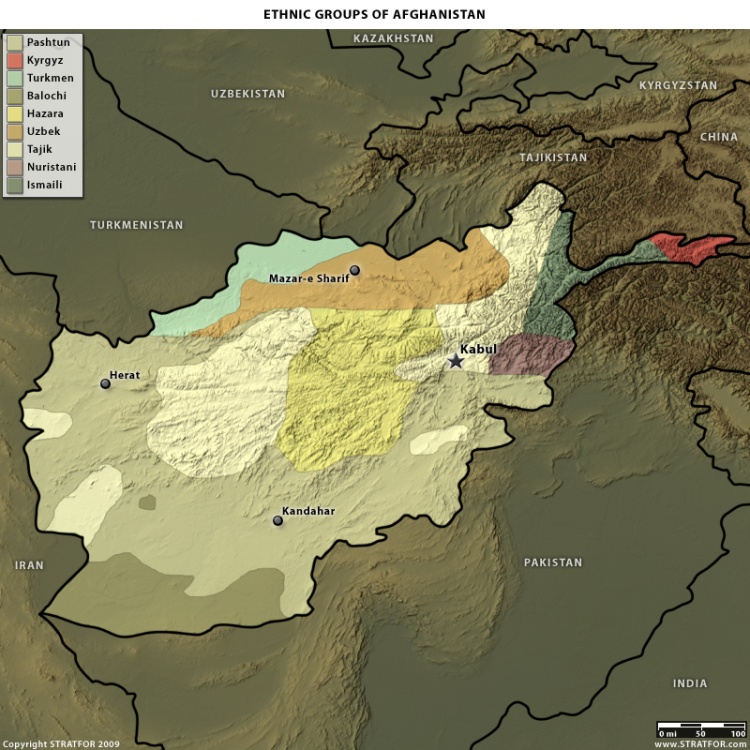 This (geo)graphic was pulled from a Stratfor article entitled Part 6: The Obama Administration and South Asia (hint, link won't work without subscription).
Hopefully Stratfor will consider this advertising, or at least falling under Fair Use!  Since I consider this blog my personal file system for things I don't won't to lose track of, I am including a healthy extract from this Stratfor article as its the best explanation of the challenge from a geostrategic perspective.  It would have been nice to have dealt with Afghanistan consistently since 2001.
::::::::::::::::::::::::::::::::::::::::::::::::::::::::::::::::::::::::::::::::::::::::::::::::::::::::::::::::::::::
Landlocked by Iran, Central Asia and Pakistan, Afghanistan is destined to be poor and insulated. As a largely arid, resource-deficient no-man's-land, the country lacks strategic value in and of itself and historically has served as a thoroughfare for invaders descending from the Central Asian steppes in search of the Indian subcontinent. Afghanistan stands out among the world's countries in that it has no core region that defines itself as the Indus River Valley does for Pakistan or as the Zagros Mountains do for Iran. The region's central mountain knot keeps most of its various ethnicities perched on the edges of the knot where water is available, but there are no meaningful barriers that separate them from each other. The result is a hodgepodge of ethnic groups and tribes constantly competing for dominance, endlessly able to dislodge their neighbors and yet lacking the natural barriers that could give them real security in the long run. Any outsider, therefore, will find Afghanistan easy to conquer — as did the Russians in 1979 and the Americans in 2001 — but impossible to hold. Representing a battered mix of ethnicities, the Afghan people have been hardened by wars of their own making and those brought to them by outsiders. Territory changes hands often, and the people pledge their loyalties accordingly.
Afghanistan's geographic features essentially deny the United States a successful military strategy. When the United States fights wars in Eurasia, it already expects to deal with critical disadvantages, such as having its forces far outnumbered and having to maintain long and vulnerable supply lines. From almost its very beginning, the United States has conducted expeditionary military operations overseas; since World War II, it has come to rely on its global maritime dominance and technological edge to impose its influence far beyond U.S. coastlines. In the present case of Afghanistan, however, all the strengths that the United States typically brings to a military operation are more or less nullified. With no real power base, the United States is fighting a stateless entity in a landlocked country with a scattered population. Such a dynamic prevents the United States from utilizing its naval prowess and complicates the use of advanced weapons systems, particularly when use  d against a guerrilla enemy dispersed throughout the countryside. The only way to fight in Afghanistan is to use brute force and significant numbers of boots on the ground in a war of occupation — precisely the sort of war that lies outside the U.S. comfort zone.
::::::::::::::::::::::::::::::::::::::::::::::::::::::::::::::::::::::::::::::::::::::::::::::::::::::::::::::::::::::
In other words, Afghanistan's geography in many ways denies the United States any good policy options. Afghanistan historically has been a country exceedingly difficult for an outside power to pacify. At the very best, the United States can hope for a loose and shifting confederation of Afghan tribes and ethnic groups to try and govern the country and prevent transnational jihadist forces from taking root again. But for that strategy to work, the United States would first need to devote an immense amount of time and resources to long-term counterinsurgency and nation-building in a region extremely resistant to the sort of stability required for nation-building. Without the 9/11 connection, Afghanistan would continue to sit very low on the totem pole of U.S. strategic interests.